Hoof treatment has never been so easy.
Sizing & Fit
The Tubbease Hoof Sock and Sole Inserts have been designed for easy and simple application in equine hoof treatment. Use the fitting guide below to ensure a correct and comfortable fit for your horse or pony. 
Please note: Tubbease Hoof Socks are not enduring boots. They are for short term use in confined enclosures by restrained animals. Judgement should be exercised.
How to measure for Tubbease
Simply measure the widest diameter of your horse's hoof sole (this might be length or width depending on which is longer) and fit within one of the Tubbease sizes below. The fit of the hoof sock must be as close as possible to the hoof.
Tubbease can also be fitted over horseshoes.
Please note: The Tubbease dimensions shown below indicate the maximum internal diameter of the Tubbease cup not the diameter of the hoof.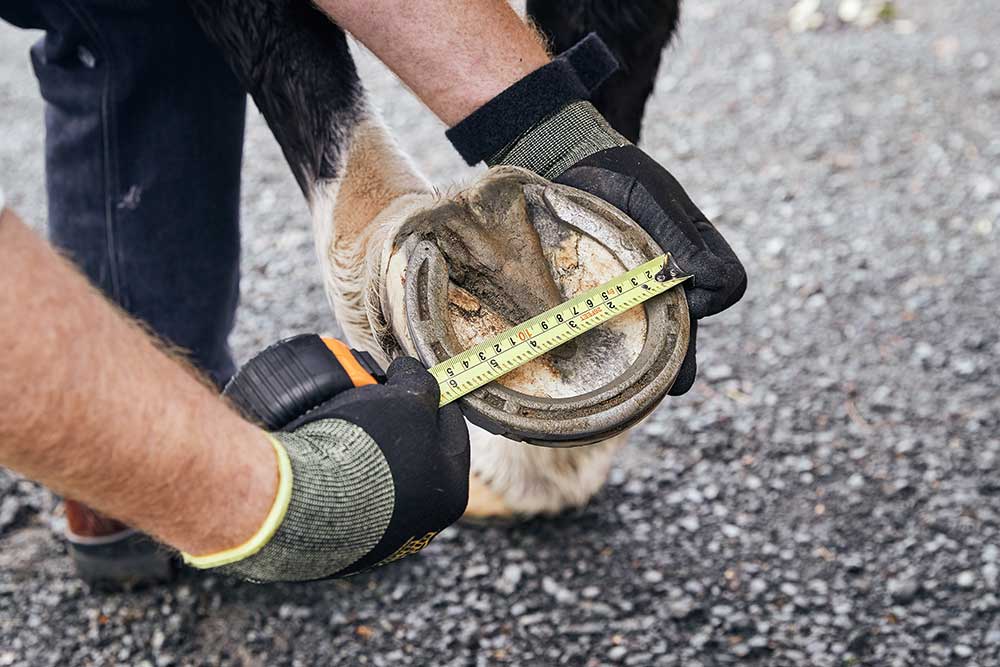 Available Sizes
Please note: Dimension is internal width of Tubbease cup.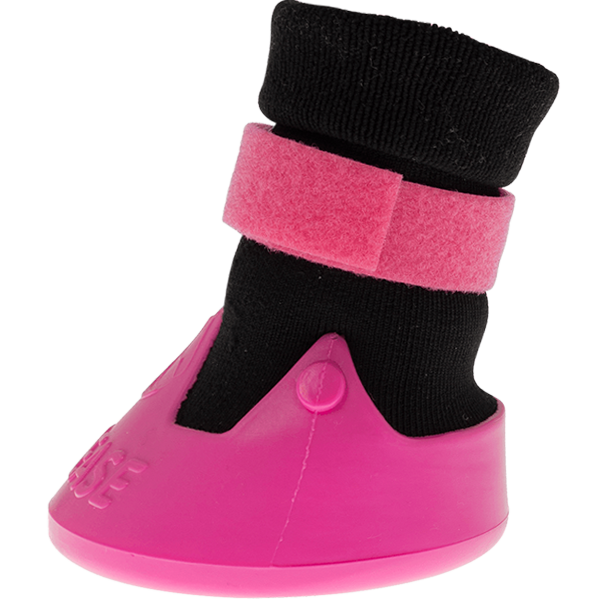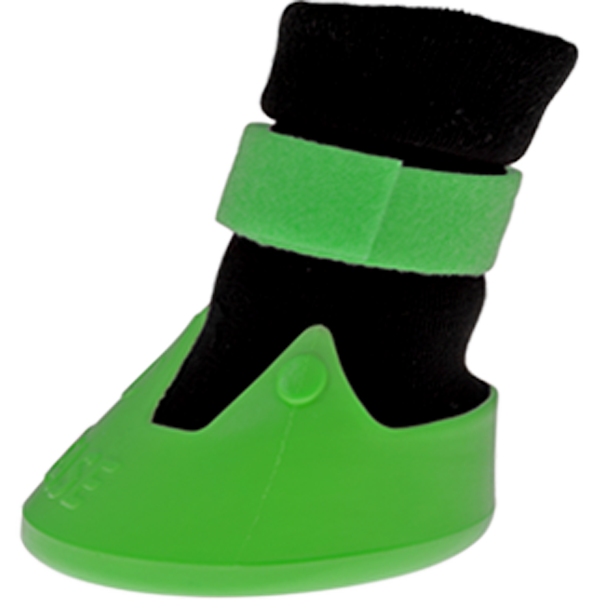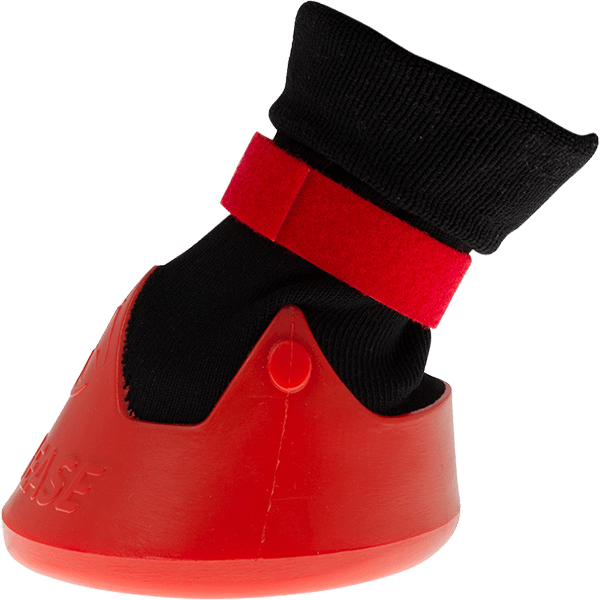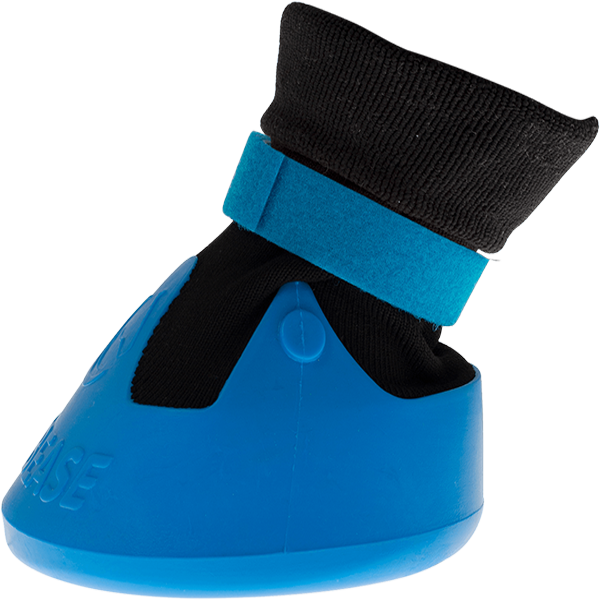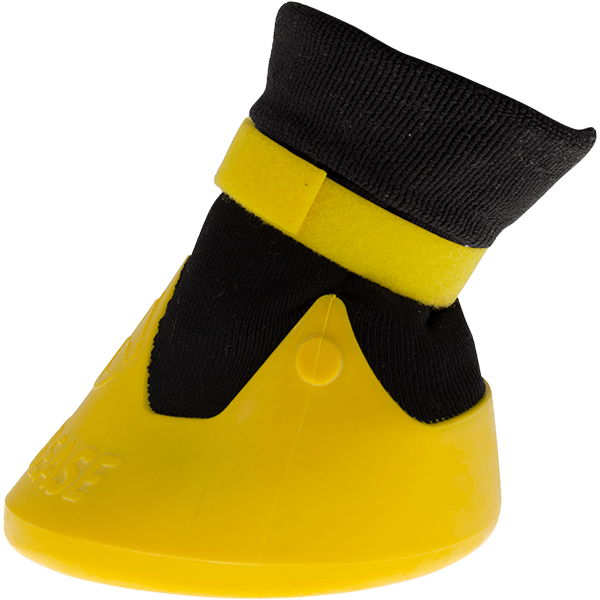 Apply your Tubbease in four easy steps: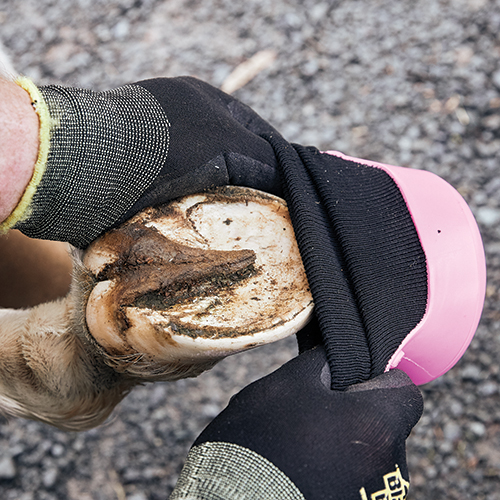 Pull over hoof
After preparing the hoof, open sock wide and pull Tubbease over hoof using tabs at side.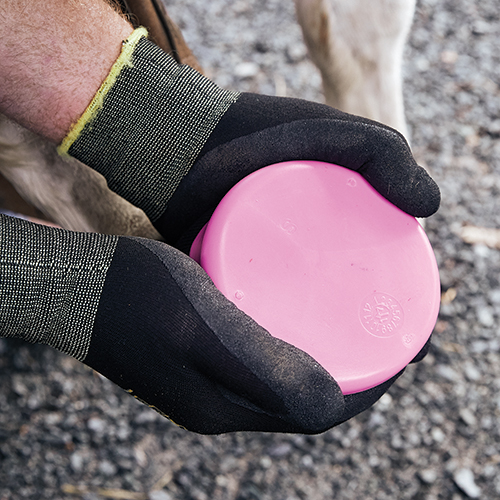 Check fitting
Check Tubbease is fitting correctly and then pull sock up carefully.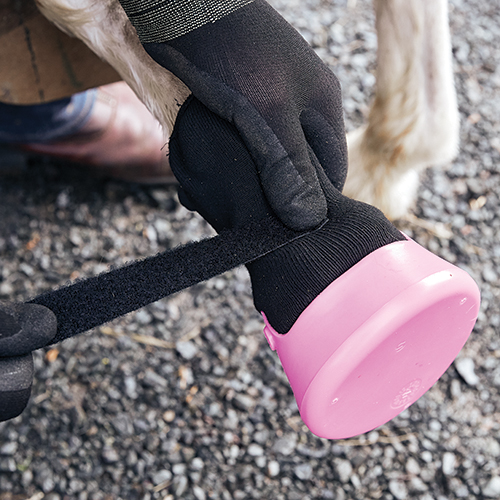 Apply strap
With sock taut, fit hook and loop strap to lower pastern with hook side facing sock. Ensure one finger space under strap.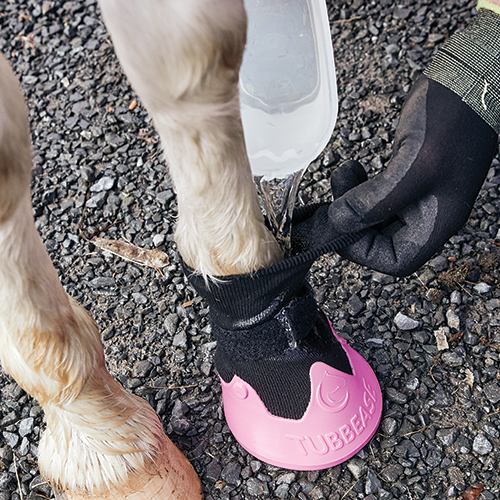 Add treatment solution
With hoof on the ground, simply pour in treatment solution as required, or submerge fitted hoof into a bucket of your chosen solution for deeper soaking.
Important: Tubbease Hoof Socks are not enduring boots. They are for short-term use in confined enclosures by restrained animals. Judgement should be exercised.
Multi Lauguage Instructions
Dansk
Når hoven er klar til behandling, åbnes sokken og Tubbease trækkes over hestens hov.
Husk at sikre at Tubebease sidder/passer korrekt. Træk evt. sokken op til den sidder perfekt.
Når sokken sidder korrekt, påsættes velcrostroppen løst om hestens kodeled – nedre halvdel. Ha´ en fingers luft imellem sokken og kodeled.
Når hoven står på jorden, kan der tilsættes væske m.m.
Deutsch
Nachdem der Huf vorbereitet oder behandelt wurde, öffnen sie den Strumpf so weit als möglich und stülpen Tubbease mit Hilfe der seitlichen Ausbuchtungen über den Huf.
Überprüfen sie Tubbease auf korrekten Sitz und ziehen dann die Socke nach oben.
Fixieren sie die Socke mit dem Klettverschluss mit der rauen Seite nach unten und achten sie darauf, dass ca. eine Fingerbreite unter dem Band Platz hat.
Befüllen Sie Tubbease wie am Bild gezeigt mit der Behandlungslösung.
Espanol
Después de preparar el casco, abra el calcetín ampliamente y coloque el Tubbease en el casco halándolo hacia arriba, usando la pestaña lateral.
Verifique que el Tubbease está colocado correctamente. Ajústela hacia arriba firme y cuidadosamente.
Con el calcetín ajustado, ajuste el gancho y apriete la correa del lazo para bajar la cuartilla con el calcetín del lado del gancho. Asegúrese de dejar un espacio como para un dedo bajo de la correa.
Con el casco en el suelo, aplique el tratamiento que sea requerido o sumerja el casco con el calcetín n un balde con la solución escogida, para que quede totalmente humedo.
Francais
Après avoir préparé ou soigné le sabot, ouvrez la chaussette et enfiller Tubbease sur le sabot en utilisant les languettes.
Vérifiez que le Tubbease est correctement placé sur le sabot puis tirez la chaussette avec précaution.
La chaussette étant tendue, placez la fermeture scratch sur le paturon avec la chaussette côté scratch. Assurez-vous que les doigts puisse passer entre la paturon et la fermeture.
Avec le sabot sur le sol, versez au besoin la solution de traitement ou plonger le sabot entier dans un seau comportant la solution choisie pour un trempage plus profond.
Italiano
Dopo la cura dello zoccolo, aprire la Tubbease e tirare sopra lo zoccolo utilizzando linguette laterali.
Controllare il corretto adattamento del Tubbease e tirare accuratamente in alto.
Con la calza tesa, montare la cinghia a strappo sul metacarpo inferiore con il calzino rivolto verso il lato del gancio. Garantire spazio per un dito sotto il cinturino.
Dopo avere inserito correttamente la scarpa dello zoccolo, utilizzare la soluzione di trattamento come raccomandato, oppure immergere lo zoccolo in un secchio con la soluzione scelta, per un'immersione più profonda.
Dutch
Maak de hoef goed schoon. Houd de Tubbease sok wijd open en trek dan de schoen over de hoef.
Controleer of de hoef goed in de schoen zit en trek dan de sok omhoog.
Doe het klittenbandje om de koot om de sok op zijn plaats te houden. De haakjes kant (de harde kant) van het klittenband gaat aan de kant van de sok. Houd een vingerdikte ruimte tussen het bandje en de koot.
Schenk de vloeistof waarmee je de hoef wilt behandelen in de tubbease terwijl de voet op de grond staat. Of, om nog dieper te weken, kun je de hoef ook, met tubbease en al, onderdompelen in een emmer met vloeistof.
Polski
Po przygotowaniu oraz opatrzeniu kopyta, otwórz szeroko skarpetę i wciągnij Tubbease na kopyto za pomocą bocznych zakładek.
Sprawdź, czy but leży prawidłowo i następnie delikatnie naciągnij skarpetę.
Gdy skarpeta jest już napięta, dopasuj pas z haczykiem i pętelką do dolnej części śródręcza, kierując skarpetę z haczykiem na bok. Zapewnij pod paskiem miejsce na jeden palec.
Utrzymując kopyto na ziemi po prostu wlej do środka Tubbease roztwór do leczenia, a jeżeli jest to wymagane, zanurz kopyto we wiadrze z wybranym roztworem w celu głębszego namoczenia kopyta.
Svenska
När hoven är rengjord och/eller behandlad trä Tubbease över hoven.
Kontrollera att Tubbease sitter och passar korrekt, dra därefter upp strumpan ordentligt.
För att strumpan ska sitta uppe ordentligt, fast kardborrbandet runt karleden, se till att du kan få ett finger emellan så att inte bandet sitter för hart.
Sätt ner hoven på marken och fyll på med behandlingsvätska.
Video Demonstration
Farrier, Erin Hampson-Tindale, demonstrates the correct fitting of the Tubbease Hoof Sock.